God's Grace
GRACE TO YOU!
Please take some time to read this weeks scriptures…all of them have some powerful things to say to us; and enjoy the commentary on God's Grace below!
Opportunity House was a success! Thanks to everyone who contributed money, time, and prayers!
Reading Pride Interfaith Service on July 11 and  Reading Pride Festival on July 19.  Please see more information about those events below – we need help to be at the booth!
Also see a statement from the ECC on the recent Supreme Court Decision, and how you can follow the ECC on twitter – on the left side of the newsletter!
Please take the time to read the articles and information in this week's "GOOD NEWS".  Don't forget to print out the PRAYER REQUESTS and hold up your fellow brothers and sisters in prayer this week.    Feel free to forward this newsletter to a family member or friend, or share it on your facebook page or twitter by using the "like" and "share" icons at the top of the page.  MANY BLESSINGS!
This weeks readings and question of the week:

Take time to mediate on God's word and prepare for worship

this Sunday

.  And as you meditate on them, consider the Question of the week:

How did I respond the last time someone challenged my perspectives and prejudices?  How might Jesus be calling on me, by my own "prophetic" vocation, to do the same?
Ezekiel 2:1-5
Psalm 123
2 Corinthians 12:7-10
Mark 6:1-6
2nd Corinthians 12: 8-10
Three times I appealed to the Lord about this, that it would leave me, but he said to me, "My grace is sufficient for you, for power is made perfect in weakness." So, I will boast all the more gladly of my weaknesses, so that the power of Christ may dwell in me. Therefore I am content with weaknesses, insults, hardships, persecutions, and calamities for the sake of Christ; for whenever I am weak, then I am strong.  
"My grace is sufficient for you, for power is made perfect in weakness."What a wonderful proclamation to hear from our Lord! God's grace is sufficient.
In this topsy-turvy world, when all things seem to go wrong,
when we discover that we are not in control, and are powerless to save ourselves, it is such a miraculous thing to hear the truth: that despite our weakness, and even in and through our weakness, God's strength reigns supreme, and we … we are called to live by God's Grace.
Who would have guessed that the weakness of God in Christ,
crucified on another thorn, could break the shackles of sin and death and remove the thorn of evil from us?
As Paul told the Corinthians in the earlier letter:
"The weakness of God is stronger than human strength."
The cross is a folly to the Greek, and a stumbling block for the Jew — for the cross is weakness, not strength,it is humiliation, not victory … but not in the eyes of God. For Christ's thorn — His Cross — is the strength which delivers us all.in this topsy-turvey world, when all things seem to go wrong, when we discover that we are not in control, and are powerless to save yourselves, it is, indeed, a miraculous thing to hear the truth:
that despite our weakness and even in and through our weakness, God's strength reigns supreme.
And we … just like Paul … we are called to find God's Grace sufficient for us. We are called … like Paul … to live by Grace.
edited/abbreviated from: Dr. Gregory S. Neal
A MUSICAL TREAT! 
A special "Thank you" to Matt Hayes for sharing his talent last Sunday singing "Ave Verum" during Communion and a moving
rendition of "You'll Never Walk Along"
Matt (on the organ) and Joe DiCindio (on the piano) also played a duet'; foot tapping version of "What a Friend We Have in Jesus".
Truly an inspirational experience!!!  Thank you Matt and Joe!
OPPORTUNITY HOUSE A SUCCESS!
THANK YOU SO MUCH!
Your contributions to the Lenten Offering this past year allows us to serve breakfast to about 30 men and 30 women and children at the Opportunity House this past Saturday, June 27.  Thanks for being a blessing to others.
Also thanks to Wendy and Kimmie for doing the shopping for supplies, and to Nancy, Wendy, Henry, Joan, Mary-Ellen, Ben, and Jerry for cooking and serving food.  (see pictures below)
We will be picking another date or two later in the year as well – so watch for that and plan to participate if you can.  Its a real blessing to everyone!
Interfaith Service
July 11 – 7:00 pm
The First Unitarian Universalist Church of Berks County, 416 Franklin Street, Reading
PRIDE FESTIVAL
July 19 
All Souls will have a booth at the festival and we need YOUR HELP!   Sign up sheets will be available at church starting this week!  We need people to help with set up and take down, handing out information, children's crafts, etc.  PLEASE HELP! THANK YOU!
Do you have pictures of All Souls Events from this past year?  We need to update our board, but can use more pics, please send toallsoulsecc@gmail.com or PRINT them out and bring to church!  THANK YOU.
UPDATE YOUR INFO!
We always want to be sure your information is up to date.  If you have moved, changes phone numbers, or use a new email address – let us know!   We have "contact information" sheets printed out in the Heritage Room during coffee hours, just cross out any old info, and put in the new info.   Or email any changes toallsoulsecc@gmail.com.   We are preparing new directories for this fall, so be sure to do this as soon as possible.
NORTH WEST MINISTERIUM
All Souls is part of the North West Ministerium; here are some local churches looking for help:
Hope Lutheran has a community meal and worship service every
Tuesday
from
5:30-6:30
Just show up – it is that easy.
Path of Holiness is collecting children's clothing to send to El Salvador – there has been some devastation there recently and there is great need.
Have kids?: Hope Lutheran and Christ (Glenside) are having Vacation Bible School the first week of August – one is hosting in the morning, the other in the evening. Call them for more details.
How are you doing answering this  past week's question 
of the week from the bulletin? 
Is there a situation in my life or in the life of a friend or family member that is considered hopeless? How can I obey Jesus' advice, "Do not fear, only believe"?
A few pics from Opportunity House!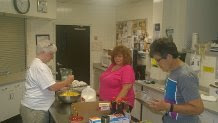 Joan, Nancy, and Mary-Ellen doing some prep-work!
Henry working his magic with the tator tots!
Jerry and Joan scrambling eggs.  Well, maybe just Joan – but we had fun!
Wendy hard at work on the Scrabbled Eggs!
All Souls Represented at the recent rally on Penn St Bridge
Fr. Henry and Jerry holding All Souls Banner, Tom & Dave behind them.
Joan, Abby, and Mary-Ellen, (with Ben, Rich, and others in background)