Palm Sunday 2018!
Worship/Holy Eucharist
1:00 pm – Chapel
Sunday, March 25
Maundy Thursday Service
7:00 pm – Chapel
Thursday, March 29
Good Friday Service
1:00 pm – Chapel
Sunday, March 30
The GREAT EASTER VIGIL
7:00 pm – Chapel
Saturday, March 31
No Service April 1
Worship/Holy Eucharist
1:00 pm – Chapel
Sunday, April 8
Worship/Holy Eucharist
1:00 pm – Chapel
Sunday, April 15
PARISH BOWLING NIGHT!
6:00 pm – Location TBD
Saturday, April 21
Worship/Holy Eucharist
1:00 pm – Chapel
Sunday, April 22
Worship/Holy Eucharist
1:00 pm – Chapel
Sunday, April 29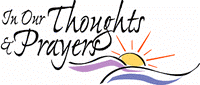 The Prayer List is updated weekly. Please keep the people and needs of those on the list a part of your daily prayer life.
Rota's are also updated and listed below, check for openings and where your help in ministry is needed this week or next month!
Those scheduled to bring something to share after worship are those who's last names begin with:
March 25: S-Z
March 31: ALL*Light Refreshments
April 8: A-F
April 15: G-L
April 22: M-R
April 29: S-Z
May 6: A-F
May 13: G-L
May 20: M-R
May 27: S-Z
IF YOU ARE ABLE – PLEASE BRING SOMETHING TO CONTRIBUTE IF ITS YOUR WEEK!
Entrance Hymn: # 622 I Heard the voice of Jesus Say
Offering Hymn: # 406 Jesus Walked This Lonesome Valley
Communion Meditation: # 422 Jesus Remember Me
Recessional Hymn: # 496 How Great Thou Art
All Souls ECC is a parish of the Ecumenical Catholic Communion
GOOD NEWS
The Weekly Newsletter of All Souls ECC
A Welcoming Family of Faith!
To my sisters and brothers in Christ of All Souls,
On Ash Wednesday we began our spiritual journey of renewal, a period of 40 days, known as Lent. Next Sunday, March 25, known as Palm Sunday, marks the beginning of a week that is special to Christians throughout the whole world, Holy Week. We begin our Holy Week celebration with palm branches in our hands, recalling the crowds that cried both "Hosanna!" and "Crucify!" celebrating Christ's entrance into Jerusalem to accomplish his paschal mystery. 
On Maundy Thursday, March 29 we begin our three-day celebration of the passion and resurrection of our Lord Jesus Christ, the sacred paschal Triduum. Let us make this a solemn three day retreat, and together come to know more deeply the heart of our faith, the heart of our loving God. I encourage you to make every effort possible to participate in our services of Holy Week.
Fr. Henry
This Week's Reading
And Question of the Week
Take time to mediate on God's word and prepare for worship this Sunday. And as you meditate on them, consider the Question of the Week:
As we enter the final days of this Lenten journey, am I ready to respond to the Christ in others with loyalty, courage, and love in whatever condition I find them, thru whatever difficulties they may have undergone?
Isaiah 50:4-7
Psalm 22:8-9, 17-18, 19-20, 23-24
Philippians 2:6-11
Mark 14:1-15:47
"Hosanna to the Son of David! Blessed is he who comes in the name of the Lord! Hosanna in the highest!" (Matthew 21:9, ESV).
The phrase hosanna in the highest appears only twice in the Bible, once in Matthew and again in Mark, during the triumphal entry of Jesus into Jerusalem. The people were crowded around the gate watching Jesus enter the city, and they were celebrating and calling out, Mark 11:10 records the crowd saying, "Blessed is the coming kingdom of our father David! Hosanna in the highest!" (ESV). The NIV translates their shout as "Hosanna in the highest heaven!"
The word hosanna comes from a Hebrew word meaning "save now" or "save us, we pray." The first word of Psalm 118:25 is howosiah-na, translated "Save us!" and the crowd's use of this word at the triumphal entry was significant-especially as they waved palm branches (Psalm 118 was associated with the Feast of Tabernacles). By saying "hosanna" as Jesus passed through the gates of Jerusalem and referring to David and David's kingdom, the Jews were acknowledging Jesus as their Messiah. The Jews had been waiting a long time for the fulfillment of the Davidic Covenant and their shouts of "hosanna in the highest" indicated the hope that their Messiah had finally come to set up God's kingdom then and there.
Sadly, the salvation that the people of Jerusalem wanted that day was political, not spiritual. They were only interested in a temporary, worldly fulfillment of the messianic prophecies. They chose not to see the prophecies that said the Messiah would be "a man of sorrows" who would bear the griefs of His people and be crushed for their sins. His oppression and death were clearly predicted in Isaiah 53. Yes, Jesus was the Messiah they had been waiting for, and He accepted their shouts of "hosanna in the highest." He was truly Immanuel, God with us (Isaiah 7:14). But the political conquest and final fulfillment of the David Covenant must await the second coming (Acts 1:11; Zechariah 14:4; Matthew 24:30; Titus 2:13). Before Jesus could take care of the political problems of His people, He had to take care of the sin problem.

STATIONS OF THE CROSS
Friday, March 30
4:00 PM – Incarnation Lutheran Church
Incarnation Lutheran Church, 1101 Lancaster Ave. welcomes the All Souls family and all, to the service of STATIONS OF THE CROSS.
Palm Sunday, March 25, 1:00 pm
Maunday Thursday, March 29, 7 pm
Good Friday, March 30, 7 pm
Great Easter Vigil, March 31, 7 pm
(no service, April 1)
Save the Dates
A few key dates to save for the near future, beyond the calendar:
Parish Bowling Night
Saturday, April 21
Friendly Family Fun Night & Fundraiser
Wednesday, May 23
Parish Picnic
Saturday, September 2
The Arts at Calvary
Presents a Concert Featuring:
Albright College Vocal Ensembles: Albright Angels and Mane Men 
Sunday, March 25, 2018
3:00 p.m.
A freewill offering will be taken Calvary United Church of Christ Centre Avenue and Oley Street, Reading, PA 19601 610.374.2109 Dr. Steven P. Katzenmoyer, Director of Music
Easter Flowers!
This week is the last Sunday to give to the Easter Flower Fund!
Donation can be made in memory of or in honor of. Special Easter Flower envelopes will be available in the chapel vestibule.
Spring Plant Sale!
Our friends at Incarnation Lutheran Church are having flower sale! Brochures and order forms are available after church for the next couple weeks! Now is the time to order and help support Incarnation!

How are you doing answering this past week's question of the week?
When I forgive someone who hurt me, do I truly forget it or does it continue to affect our relationship? How can I let go of the injury? How can I be confident that forgetting it will help?