Fifth Sunday of Lent 2018
Pot Luck
6:00 pm – Pine Room
Saturday, March 17
Worship/Holy Eucharist
1:00 pm – Chapel
Sunday, March 18
Board of Directors Meeting
6:00 pm – Kimmie's
Wednesday, March 21
Worship/Holy Eucharist
1:00 pm – Chapel
Sunday, March 25
Maundy Thursday Service
7:00 pm – Chapel
Thursday, March 29
Good Friday Service
1:00 pm – Chapel
Sunday, March 30
The GREAT EASTER VIGIL
7:00 pm – Chapel
Saturday, March 31
No Service April 1
Worship/Holy Eucharist
1:00 pm – Chapel
Sunday, April 8
Worship/Holy Eucharist
1:00 pm – Chapel
Sunday, April 15
PARISH BOWLING NIGHT!
6:00 pm – Location TBD
Saturday, April 21
Worship/Holy Eucharist
1:00 pm – Chapel
Sunday, April 22
Worship/Holy Eucharist
1:00 pm – Chapel
Sunday, April 29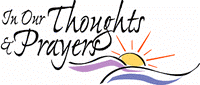 The Prayer List is updated weekly. Please keep the people and needs of those on the list a part of your daily prayer life.
Rota's are also updated and listed below, check for openings and where your help in ministry is needed this week or next month!
Those scheduled to bring something to share after worship are those who's last names begin with:
March 18: M-R
March 25: S-Z
April 8: A-F
April 15: G-L
April 22: M-R
April 29: S-Z
IF YOU ARE ABLE – PLEASE BRING SOMETHING TO CONTRIBUTE IF ITS YOUR WEEK!
Entrance Hymn: # 622 I Heard the voice of Jesus Say
Offering Hymn: # 406 Jesus Walked This Lonesome Valley
Communion Meditation: # 422 Jesus Remember Me
Recessional Hymn: # 496 How Great Thou Art
All Souls ECC is a parish of the Ecumenical Catholic Communion
GOOD NEWS
The Weekly Newsletter of All Souls ECC
A Welcoming Family of Faith!
To my sisters and brothers in Christ of All Souls,
On Ash Wednesday we began our spiritual journey of renewal, a period of 40 days, known as Lent. Next Sunday, March 25, known as Palm Sunday, marks the beginning of a week that is special to Christians throughout the whole world, Holy Week. We begin our Holy Week celebration with palm branches in our hands, recalling the crowds that cried both "Hosanna!" and "Crucify!" celebrating Christ's entrance into Jerusalem to accomplish his paschal mystery. 
On Maundy Thursday, March 29 we begin our three-day celebration of the passion and resurrection of our Lord Jesus Christ, the sacred paschal Triduum. Let us make this a solemn three day retreat, and together come to know more deeply the heart of our faith, the heart of our loving God. I encourage you to make every effort possible to participate in our services of Holy Week.
Fr. Henry
This Week's Reading
And Question of the Week
Take time to mediate on God's word and prepare for worship this Sunday. And as you meditate on them, consider the Question of the Week:
When I forgive someone who hurt me, do I truly forget it or does it continue to affect our relationship? How can I let go of the injury? How can I be confident that forgetting it will help?
Jeremiah 31:31-34
Psalm 51:3-4, 12-15
Hebrews 5:7-9
John 12:20-33
Psalm 51:34, 12-15
Have mercy on me, O God, in your goodness;
in the greatness of your compassion wipe out my offense.
Thoroughly wash me from my guilt
and of my sin cleanse me.
A clean heart create for me, O God,
and a steadfast spirit renew within me.
Cast me not out from your presence,
and your Holy Spirit take not from me.
Give me back the joy of your salvation,
and a willing spirit sustain in me.
I will teach transgressors your ways,
and sinners shall return to you
David, being convinced of his sin, poured out his soul to God in prayer for mercy and grace. Whither should backsliding children return, but to the Lord their God, who alone can heal them? he drew up, by Divine teaching, an account of the workings of his heart toward God. Those that truly repent of their sins, will not be ashamed to own their repentance. Also, he instructs others what to do, and what to say. David had not only done much, but suffered much in the cause of God; yet he flees to God's infinite mercy, and depends upon that alone for pardon and peace. He begs the pardon of sin. The blood of Christ, sprinkled upon the conscience, blots out the transgression, and, having reconciled us to God, reconciles us to ourselves. The believer longs to have the whole debt of his sins blotted out, and every stain cleansed; he would be thoroughly washed from all his sins; but the hypocrite always has some secret reserve, and would have some favorite lust spared. David had such a deep sense of his sin, that he was continually thinking of it, with sorrow and shame. His sin was committed against God, whose truth we deny by wilful sin; with him we deal deceitfully. And the truly penitent will ever trace back the streams of actual sin to the fountain of original depravity. He confesses his original corruption. This is that foolishness which is bound in the heart of a child, that proneness to evil, and that backwardness to good, which is the burden of the regenerate, and the ruin of the unregenerate. He is encouraged, in his repentance, to hope that God would graciously accept him. Thou desirest truth in the inward part; to this God looks, in a returning sinner. Where there is truth, God will give wisdom. Those who sincerely endeavour to do their duty shall be taught their duty; but they will expect good only from Divine grace overcoming their corrupt nature.
St. Patrick's Day POT LUCK
Saturday, March 17
6:00 pm – Pine Room
AYE LADDY! Put on your green and get your Irish On! Our March Pot Luck is sure to be a pot of gold!
Join us! Bring family and Friends!
Palm Sunday, March 25, 1:00 pm
Maunday Thursday, March 29, 7 pm
Good Friday, March 30, 7 pm
Great Easter Vigil, March 31, 7 pm
(no service, April 1)
Save the Dates
A few key dates to save for the near future, beyond the calendar:
Parish Bowling Night
Saturday, April 21
Friendly Family Fun Night & Fundraiser
Wednesday, May 23
Parish Picnic
Saturday, September 2
OPUS ONE
Jesuit Center, Wernersville, PA 
Sunday, March 18, 2018
2:00pm 
*Collaboration with the Susquehanna University Choir and Chamber Singers
The Arts at Calvary
Presents a Concert Featuring:
Albright College Vocal Ensembles: Albright Angels and Mane Men 
Sunday, March 25, 2018
3:00 p.m.
A freewill offering will be taken Calvary United Church of Christ Centre Avenue and Oley Street, Reading, PA 19601 610.374.2109 Dr. Steven P. Katzenmoyer, Director of Music

How are you doing answering this past week's question of the week?
What do I do in the darkness that needs to be brought into the light? Is it something that can stand the glare of truth or is it something that I need to stop doing?