Feast Day of the Holy Family 2017
Worship/Holy Eucharist
1:00 pm – Chapel
Sunday, December 31
Worship/Holy Eucharist
1:00 pm – Chapel
Sunday, January 7
Worship/Holy Eucharist
1:00 pm – Chapel
Sunday, January 14
Board of Directors Meeting
6:00 pm – Robert's
Wednesday, January 17
Worship/Holy Eucharist
1:00 pm – Chapel
Sunday, January 21
Worship/Holy Eucharist
1:00 pm – Chapel
Sunday, January 28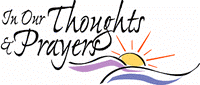 The Prayer List is updated weekly. Please keep the people and needs of those on the list a part of your daily prayer life.
Rota's are also updated and listed below, check for openings and where your help in ministry is needed this week or next month!
Those scheduled to bring something to share after worship are those who's last names begin with:
January 7: A-F
January 14: G-L
January 21: M-R
January 28: S-Z
IF YOU ARE ABLE – PLEASE BRING SOMETHING TO CONTRIBUTE IF ITS YOUR WEEK!
Entrance Hymn: # 380 – Once in Royal David's City
Offering Hymn: # 381 – The Aye Carol
Communion Response: Hymn # 365 – Away in the Manger
Recessional Hymn: # 778 Sing of Mary, Meek and Lowly
All Souls ECC is a parish of the Ecumenical Catholic Communion
GOOD NEWS
The Weekly Newsletter of All Souls ECC
A Welcoming Community of Faith!
We were glad to welcome so many at our Christmas Midnight Mass. For those who were not able to make it due to illness, work, travel, or other reason – know that we missed you and continue to wish you the warmest of Christmas Greetings and Blessings! We'd like to invite you to join us this Sunday for the Feast Day of the Holy Family 2017!
As we get into winter – to watch your email, facebook, and channel 69/WFMZ to know if ALL SOULS services or other events are cancelled due to weather. We will make notice as soon as possible. But also use your best judgement – the conditions where you live might be better or worse than they are at Centre Ave. In all things – be safe!
We hope you enjoy this issue of the Good News – with this weeks scriptures, hymns, and other information. Feel free to share with friends and family.
This Week's Reading
And Question of the Week
Take time to mediate on God's word and prepare for worship this Sunday. And as you meditate on them, consider the Question of the Week:
Do I display the attributes described in today's readings when relating to my own family? As we are all sisters and brothers in Christ, do I show these qualities in my relations with friends, coworkers, strangers?
Sirach 3:2-6, 12-14
Psalm 128:1-2, 3, 4-5
Colossians 3:12-21
Luke 2:22-40
Colossians 3:12-17
Brothers and sisters:
Put on, as God's chosen ones, holy and beloved,
heartfelt compassion, kindness, humility, gentleness, and patience,bearing with one another and forgiving one another,
if one has a grievance against another;
as the Lo rd has forgiven you, so must you also do.
And over all these put on love,
that is, the bond of perfection.
And let the peace of Christ control your hearts,
the peace into which you were also called in one body.
And be thankful.
Let the word of Christ dwell in you richly,
as in all wisdom you teach and admonish one another,
singing psalms, hymns, and spiritual songs
with gratitude in your hearts to God.
And whatever you do, in word or in deed,
do everything in the name of the Lord Jesus,
giving thanks to God the Father through him.
Colossians 3:1-17 is a recognizable section of the letter. First, in verses 1-4 readers are admonished to seek heavenly ways because they have been raised with Christ. Second, verses 5-17 elaborate the meaning of this exhortation. Here, there are a pair of passages, one negatively focused (verses 5-11) and one positively oriented (verses 12-17).
Colossians 3:5-11 contains two lists of five negative items Christians are to shun. Then, in 3:12-17 there are a series of admonitions, including another list of five items, this time positive items that Christians are to embrace. Our text for this Sunday contains the more positively expressed set of verses.
The list of five virtues in verse 12 ("compassion, kindness, humility, gentleness, and patience") are found elsewhere in the Pauline epistles to designate actions/characteristics of God or Christ. These "virtues" describe the character of active Christian living as God's chosen people who are called out of the ordinary realm of human existence to be especially dedicated to God as/because God loves them. The Christian community lives as it embodies the very gospel by which it was called and that it now proclaims.
The passage tells us that virtue exists, love prevails — why? Because "the Lord has forgiven you." Thus, that which the community experiences, the community is called to live out — and here, it is crucial to see that the "you"s of these verses are consistently in plural forms; that is, the author addresses the community, not merely the pious individual. Preaching from these verses should labor both to avoid individualizing the sense of the text and to address the congregation as a whole. The gospel is personal, but it is not — based upon these verses — to be made private. The text of Colossians envisions a community in action.
What actions are you taking? What actions should we be taking at All Souls?

How are you doing answering this past week's question of the week?
How do I treasure the wonderful gift of Jesus in my heart? How do I bear witness of his presence to others?