Fourth Sunday of Lent 2018
Worship/Holy Eucharist
1:00 pm – Chapel
Sunday, March 11
POT LUCK
6:00 pm – Pine Room
Saturday, March 17
BOARD OF DIRECTORS MTG
6:00 pm – KIMMIE'S
Wednesday, March 21
Worship/Holy Eucharist
1:00 pm – Chapel
Sunday, March 18
Worship/Holy Eucharist
1:00 pm – Chapel
Sunday, March 25
Maundy Thursday Service
7:00 pm – Chapel
Thursday, March 29
Good Friday Service
7:00 pm – Chapel
Friday, March 30
The GREAT EASTER VIGIL
7:00 pm – Chapel
Saturday, March 31
Worship/Holy Eucharist
1:00 pm – Chapel
Sunday, April 8
Worship/Holy Eucharist
1:00 pm – Chapel
Sunday, April 15
PARISH BOWLING NIGHT!
6:00 pm – Location TBD
Saturday, April 21
Worship/Holy Eucharist
1:00 pm – Chapel
Sunday, April 22
Worship/Holy Eucharist
1:00 pm – Chapel
Sunday, April 29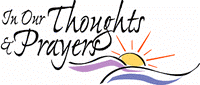 The Prayer List is updated weekly. Please keep the people and needs of those on the list a part of your daily prayer life.
Rota's are also updated and listed below, check for openings and where your help in ministry is needed this week or next month!
Those scheduled to bring something to share after worship are those who's last names begin with:
March 11: G-L
March 18: M-R
April 1: A-F
April 8: G-L
April 15: M-R
April 22: S-Z
April 29: A-F
IF YOU ARE ABLE – PLEASE BRING SOMETHING TO CONTRIBUTE IF ITS YOUR WEEK!
Entrance Hymn: # 603 There's a Wideness in God's Mercy
Offering Hymn: # 586 Amazing Grace
Communion Meditation: # 422 Jesus Remember Me
Recessional Hymn: # 785 Lift High the Cross
All Souls ECC is a parish of the Ecumenical Catholic Communion
GOOD NEWS
The Weekly Newsletter of All Souls ECC
A Welcoming Family of Faith!
Hard to believe it already the Fourth Sunday of Lent 2018. And we get closer to the most Holy of Days in the Church Calendar. Our focus as individuals and as a parish community is to do our best in following the disciplines of this holy season: prayer, fasting and alms giving.
Prayer – select a special person in your life each week a say a little prayer each day for that individual.
Fasting – select a meal one day of the week where you will eat a little less, great for weight loss and healthy for the body as well.
Almsgiving – save your spare change in the All Souls plastic container which will assist us in our outreach programs.
Together as a parish community let us not only support one another with the commitment to regular attendance is Sunday but also in our journey together through Lenten sacrifices to Easter joy.
Fr. Henry Pruski
This Week's Reading
And Question of the Week
Take time to mediate on God's word and prepare for worship this Sunday. And as you meditate on them, consider the Question of the Week:
What do I do in the darkness that needs to be brought into the light? Is it something that can stand the glare of truth or is it something that I need to stop doing?
2 Chronicles 36:14-16, 19-23
Psalm 137:1-2, 3, 4-5, 6
Ephesians 2:4-10
John 3:14-21
Ephesians 2:4-10
Sisters and brothers:
God, who is rich in mercy,
because of the great love he had for us,
even when we were dead in our transgressions,
brought us to life with Christ – by grace you have been saved -,
raised us up with him,
and seated us with him in the heavens in Christ Jesus,
that in the ages to come
He might show the immeasurable riches of his grace
in his kindness to us in Christ Jesus.
For by grace you have been saved through faith,
and this is not from you; it is the gift of God;
it is not from works, so no one may boast.
For we are his handiwork, created in Christ Jesus for the good works that God has prepared in advance,
that we should live in them.
From Fr. MacEvilly:
In this chapter, the Apostle applies to the Ephesians in particular, what he had said in general regarding the power of God exerted in the spiritual resuscitation of sinners (chap. 1 verse 19). He depicts the wretched condition of the Ephesians when dead in sin; and he shows, that the same description applied to the Jews as well as to the Gentiles (1-3).
He also shows how, through the infinite mercy of God, they were resuscitated unto a spiritual resurrection-of which the resurrection of Christ was the model-and made sharers in his heavenly kingdom (4-7).
He reminds them, that those favors were purely the result of God's gratuitous goodness, without any merits of theirs; for, their justification was a kind of new creation, and as well might the world glory in its production out of nothing, as they, in their new spiritual existence (8-12).
In order to inspire them with due feelings of gratitude, and to stimulate them to serve God with greater fervor, he tells them, in the next place, to keep always in mind, their former spiritual destitution, and wretched state, and their present blessedness secured for them through the merits of Christ; and he explains how Christ brought about such exalted ends (11-19).
From all this he concludes, that they are no longer strangers, but domestics of God; and he illustrates the union that subsisted between the Ephesians and the rest of the faithful by the metaphor of a spiritual edifice of which they form a part, having been built on Christ and his Apostles.
Good Thyme for Life
March 6
Thanks to everyone who supported our hosting of Good Thyme for Life at Blind Hartmans. Many people contributed their time, talent, and financial gifts to make it happen – and many thanks to everyone who came out and brought friends and family. It was a great success for our first time hosting the event. The All Souls Family really came together to help this cause.
Good Thyme for Life List of Winners:
White Wine Basket – Josh B.
Red Wine Basket – Gerry W.
Faber Easy Drinking Basket – Chris H.
Terrarium Basket – Wendy B.
Bird Feeder Basket – Michele K.
Hens and Feathers Basket – Ed S.
Distillery Basket – Gerry W.
Tea Basket – T. Kennig
Lottery Basket – Gerry W.
Beauty Basket – T. Kennig
Pampered Chef – Diane H.
Tastefully Simple – Diane H.
Kid's Easter Basket – Sherry M.
Phillies Collectible Mugs Basket – Dennis T.
Hospitality Basket – Jan K.
Kid's Scentsy Basket – Bill H.
Mary Kay Basket – Lynne S.
Silent Auction Winners:
Reading Fightin Phils Basket – Mary Ellen M.
Double Tree by Hilton Package – Mary Ellen M.
Designer Perfume Basket – Henry P.
40″ Flat Screen TV – Henry P.
Artwork – no bid
AIDS Poster – Rusty B.
St. Patrick's Day Potluck
March 17
AYE LADDY! Put on your green and get your Irish On! Our March Pot Luck is sure to be a pot of gold!
Join us! Bring family and Friends!

Saturday, March 17
6 pm – Pine Room
Save the Dates
A few key dates to save for the near future, beyond the calendar.
*Holy Week Services – 7 pm in Chapel
Maunday Thursday, March 28
Good Friday, March 29
Great Easter Vigil, March 30
Parish Bowling Night
Saturday, April 21
Friendly Family Fun Night & Fundraiser
Wednesday, May 23
Opus One
Blessed Are They
Jesuit Center, Wernersville, PA
Sunday, March 18, 2018
2:00pm
*Collaboration with the Susquehanna University Choir and Chamber Singers
The Arts at Calvary
presents a concert featuring
Albright College vocal ensembles:
Albright Angels and Mane Men
Sunday, March 25, 2018
3:00 p.m.
A freewill offering will be taken
Calvary United Church of Christ
Centre Avenue and Oley Street, Reading, PA 19601
610.374.2109
Dr. Steven P. Katzenmoyer, Director of Music

How are you doing answering this past week's question of the week?
What does Jesus have to "drive out" of the temple of my soul, what "tables overturn" to transform my heart from a "marketplace" into "the Father's house"?