Third Sunday of Lent 2018
Worship/Holy Eucharist
1:00 pm – Chapel
Sunday, March 4
Worship/Holy Eucharist
1:00 pm – Chapel
Sunday, March 11
POT LUCK
6:00 pm – Pine Room
Saturday, March 17
BOARD OF DIRECTORS MTG
6:00 pm – KIMMIE'S
Wednesday, March 21
Worship/Holy Eucharist
1:00 pm – Chapel
Sunday, March 18
Worship/Holy Eucharist
1:00 pm – Chapel
Sunday, March 25
Maundy Thursday Service
7:00 pm – Chapel
Thursday, March 29
Good Friday Service
7:00 pm – Chapel
Friday, March 30
The GREAT EASTER VIGIL
7:00 pm – Chapel
Saturday, March 31
Worship/Holy Eucharist
1:00 pm – Chapel
Sunday, April 8
Worship/Holy Eucharist
1:00 pm – Chapel
Sunday, April 15
PARISH BOWLING NIGHT!
6:00 pm – Location TBD
Saturday, April 21
Worship/Holy Eucharist
1:00 pm – Chapel
Sunday, April 22
Worship/Holy Eucharist
1:00 pm – Chapel
Sunday, April 29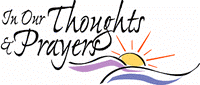 The Prayer List is updated weekly. Please keep the people and needs of those on the list a part of your daily prayer life.
Rota's are also updated and listed below, check for openings and where your help in ministry is needed this week or next month!
Those scheduled to bring something to share after worship are those who's last names begin with:
March 4: A-F
March 11: G-L
March 18: M-R
March 25: S-Z
April 1: A-F
April 8: G-L
April 15: M-R
April 22: S-Z
April 29: A-F
IF YOU ARE ABLE – PLEASE BRING SOMETHING TO CONTRIBUTE IF ITS YOUR WEEK!
Entrance Hymn: # 642 Christ is Made the Sure Foundation
Offering Hymn: # 406 Jesus Walked this Lonesome Valley
Communion Meditation: # 422 Jesus Remember Me
Recessional Hymn: # 639 The Kingdom of God, vs. 1-3
All Souls ECC is a parish of the Ecumenical Catholic Communion
GOOD NEWS
The Weekly Newsletter of All Souls ECC
A Welcoming Family of Faith!
GOOD THYME FOR LIFE IS TUESDAY! HOPE TO SEE YOU THERE!
We continue on our Lenten Journey as we enter the Third Sunday of Lent 2018. The Easter story is unfolding slowly each week in our Gospel as we prepare for the most Holy of Days in the Church Calendar. Our focus as individuals and as a parish community is to do our best in following the disciplines of this holy season: prayer, fasting and alms giving.
Prayer – select a special person in your life each week a say a little prayer each day for that individual.
Fasting – select a meal one day of the week where you will eat a little less, great for weight loss and healthy for the body as well.
Almsgiving – save your spare change in the All Souls plastic container which will assist us in our outreach programs.
Together as a parish community let us not only support one another with the commitment to regular attendance is Sunday but also in our journey together through Lenten sacrifices to Easter joy.
Fr. Henry Pruski
This Week's Reading
And Question of the Week
Take time to mediate on God's word and prepare for worship this Sunday. And as you meditate on them, consider the Question of the Week:
What does Jesus have to "drive out" of the temple of my soul, what "tables overturn" to transform my heart from a "marketplace" into "the Father's house"?
Exodus 20:1-3, 7-8, 12-17
Psalm 19:8, 9, 10, 11
Corinthians 1:22-25
John 2: 13-25
John 2:19-22
"Destroy this temple and in three days I will raise it up."
The Jews said,
"This temple has been under construction for forty-six years,
and you will raise it up in three days?"
But he was speaking about the temple of his body.
Therefore, when he was raised from the dead,
his disciples remembered that he had said this,
and they came to believe the Scripture
and the word Jesus had spoken.
What Does Jesus Mean?
He was answering at two levels. First, he meant, You are destroying this temple. When you desecrate the worship of my Father with your white-washed greed, you destroy what this temple is, and you expose it to the wrath of God. It will indeed be destroyed. And that happened 40 years later when the Romans leveled it in A.D. 70.
But at another level he was saying: That same materialistic deadness to spiritual reality that destroys this temple will destroy me. Just like you kill worship in the temple with your consumerism and materialism, you will kill me. I and my Father are one. If you destroy his house, you destroy me. If you treasure money more than my Father, you will treasure my destruction-and buy it with 30 pieces of silver.
So he is speaking at two levels: Destroy this temple, the building; and Destroy this temple, my body.
"In Three Days I Will Raise It Up"
And what does Jesus mean when he says, "And in three days I will raise it up"? Same two levels. I will raise up my body in the resurrection after three days. Remember what he says in John 10:17-18? "I lay down my life that I may take it up again. No one takes it from me, but I lay it down of my own accord. I have authority to lay it down, and I have authority to take it up again." He lays it down for our sin. He takes it up again. When they destroy it, he builds it again in three days.
But there is another level of meaning. The material temple that would be destroyed, Jesus builds again in three days in the sense that he now replaces this temple and becomes the new "place" where everyone may meet God and fellowship with God. Remember what he said in Matthew 12:6, "I tell you, something greater than the temple is here." And he meant himself.
Good Thyme for Life
Tuesday, March 6
This past November, at our parish's annual meeting, the congregation agreed that, as part of All Souls' Ministry and Outreach, to participate in A Good Thyme For Life. This is an annual dining out event to benefit Co-County Wellness Services. The event helps to raise funds to support those affected by HIV/AIDS.
NOW THE TIME HAS COME! Make plans to join us and invite your friends and family!
Tuesday March 6, 2018.
All Souls will be hosting at Blind Hartman's Tavern, 2910 Pricetown Road, Temple.
11 am – 10 pm
WE NEED YOU!!! – We need people to volunteer to help at the restaurant that evening to assist with the selling of raffle tickets for raffle baskets. See any board member for more information on how you can help.
Lenten Message from the ECC
Bishop Francis Krebs, presiding bishop of the Ecumenical Catholic Communion and Pastor of Sts. Clare and Francis ECC in St. Louis, shares his message for Lent, 2018
St. Patrick's Day Pot Luck
March 17
AYE LADDY! Put on your green and get your Irish On! Our March Pot Luck is sure to be a pot of gold!
Join us! Bring family and Friends!
Saturday, March 17
6 pm – Pine Room
Save the Dates
A few key dates to save for the near future, beyond the calendar
*Holy Week Services – 7 pm in Chapel
Maunday Thursday, March 28
Good Friday, March 29
Great Easter Vigil, March 30
Parish Bowling Night
Saturday, April 21
Friendly Family Fun Night & Fundraiser
Wednesday, May 23
Opus One
Blessed Are They
Jesuit Center, Wernersville, PA
Sunday, March 18, 2018
2:00pm
In collaboration with the Susquehanna University Choir and Chamber Singers
The Arts at Calvary
presents a concert featuring
Albright College vocal ensembles:
Albright Angels and Mane Men
Sunday, March 25, 2018
3:00 p.m.
A freewill offering will be taken
Calvary United Church of Christ
Centre Avenue and Oley Street, Reading, PA 19601 610.374.2109
Dr. Steven P. Katzenmoyer, Director of Music

How are you doing answering this past week's question of the week?
In the Gospel, God says, "This is my beloved Son. Listen to him" (Mark 9:7). What is Jesus saying to me? What is Jesus asking me to do?